About the author
Grace Gibbons is a BAFTA-winning former TV producer who now uses her experience of human-interest programme making to help public sector organisations and charities create high-quality content.
The project
Bounce Video has just finished working on a 18 month project with the Church of England. Living in Love and Faith is a new series of resources designed to help The Church of England explore differing views and find a way forward in matters of identity, sexuality, relationships and marriage.
The resources included a 480-page book and series of podcasts for what is thought to be the most wide-ranging work in this area by any faith group. Bounce produced the video elements of the project including a five-part training course and a series of mini documentary films.
Here is the trailer for the series:
Filming the mini documentaries
One of the many highlights of the project was meeting and filming the stories of the people that took part in the mini films. The Bounce team travelled the country from Scarborough and Durham to Manchester, Birmingham and Cambridge, spending a day filming each 5-minute video.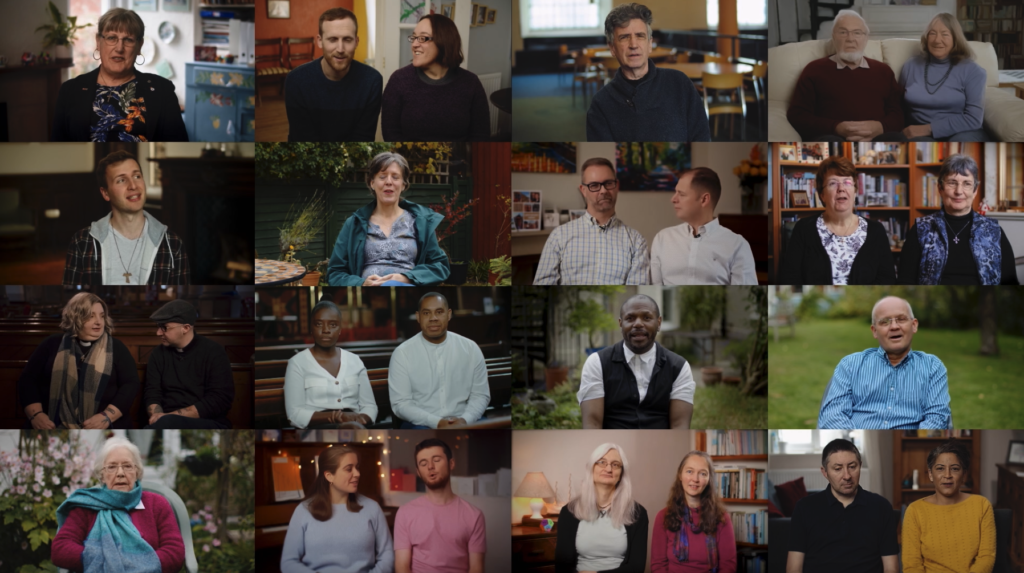 The rich and diverse stories included a young trans man and his wife's story, a same-sex couple hoping to find acceptance, a young couple talking about their heterosexual marriage and an LGBTI man sharing his celibacy story.
As well as interviewing the participants, we wanted to show a broader picture of their lives by filming them doing a range of activities that were personal to them. This included everything from basketball and Scrabble to harp playing and sailing a catamaran.
The pandemic arrived mid filming schedule
Our schedule of filming was complicated by the Covid-19 pandemic. Along with the rest of the country, we had to down tools during the first lockdown. This meant some stories were filmed before the pandemic and some were filmed after the first lockdown was lifted. This presented some challenges for continuity! Much of our filming of the second group had to be done outside and we had to work under a new strict Covid 19 filming policy. We also had to put a disclaimer on the pre-pandemic videos to explain the lack of social distancing.
It was a privilege to be welcomed into people's lives and to be able to capture their stories on film on this important subject.
Filming the training course
As part of the series we also filmed a five-part training course. Each 30-minute session explored a different topic relating to identity, sexuality, relationships and marriage. Our first challenge was to find the right presenters. We had over 100 applications but cast CBeebies presenter Joanna Adeyinka-Burford and radio presenter, Robbie James who fronted the series with warmth, charisma and authenticity.
We wanted the course to have a regional feel so came up with the idea of shooting each session in a different city/town. These included Bristol, Brighton, York, Hathersage (Peak District) and Oxford. These outdoor locations also made our filming more Covid-safe although travelling to different locations without being able to share a car made our logistics challenging!
Having spent the last 5 years mainly working in a small team of two, it was great to work with a larger team and it reminded me of my TV days.
What's next for the Church of England on questions of identity, sexuality, relationships and marriage
The Church of England plans to use these resources over the next year as a period of 'learning and engagement' before bringing a decision about the way to move forward on LGBTI matters to their church parliament in 2022.
Both the course and the story films are available to watch on the Living in Love and Faith learning hub.
About Bounce Video
Bounce Video is run by award-winning former BBC Producer, Grace Gibbons. We specialise in helping businesses and public sector organsations create compelling video campaigns and live events. To talk to us about your project, visit our website or get in touch.