About the author
Award-winning former BBC Producer, Grace Gibbons, is founder of video production company Bounce.
Are you planning on posting your first 'talking head' video on LinkedIn?  Do you want to create a testimonial video using smartphone clips from your clients? Or perhaps you're planning a Zoom expert interview series?
Either way, if you're planning on posting a video on LinkedIn or any other social media platform, it's a great idea to add captions (subtitles).
Why captions?
How many times have you scrolled through LinkedIn or Twitter and seen a video of someone talking without captions? Social videos automatically play without sound.  This means, without captions, people can look a bit like goldfish speaking behind a glass bowl! I just tend to scroll straight past them.  If, however, I see a video with captions, I will automatically read that first line.  And if the subject interests me, then I will click on it to hear the sound and watch the video.
And the statistics support this.  A recent study found that 80% of viewers are more likely to watch an entire video when captions are available.   There are loads of other reasons why captions are great. These include helping with search engine optimisation and making your videos more accessible to the hard of hearing.  Here is an easy way to help you get more views, clicks, leads, and sales through captioning your videos.
Rev.com – the best caption generating software that we've found
Creating video captions is fiddly and time consuming.  We've been adding them to our videos for many years now and tried a lot of different methods.  The best one that we've found is to use a caption generating platform called Rev.com.
The first thing to say is that Rev.com is NOT free.  Unfortunately, when it comes to captions 'free' and 'easy' are not too words that go together!  But Rev.com is not expensive!  They currently charge just $1.25 per minute of captioning.  When it comes to marketing videos, less is more. You don't ever want to be posting more than about 2 minutes at once anyway.  That means a two-minute video will cost you around £1.99 to caption.  If you've gone to the effort of planning, scripting and finding your best angle, then this is not a huge amount to pay out.  And you will see a return on your investment in your video's view count. It's also worth googling 'Rev.com free offer' or 'Rev.com coupon' as they sometimes have introductory offers.
How to use Rev.com to get your caption file – step by step guide
1. Upload your video to Rev.com
One of the reasons we love Rev.com is that it's so user friendly.  There is no software to download, you simply go to their website and sign up for an account. Click on the link for 'English captions' (unless you want foreign subtitles, which they also do).  You will then be asked to upload your video file and you can also upload a YouTube or Vimeo link.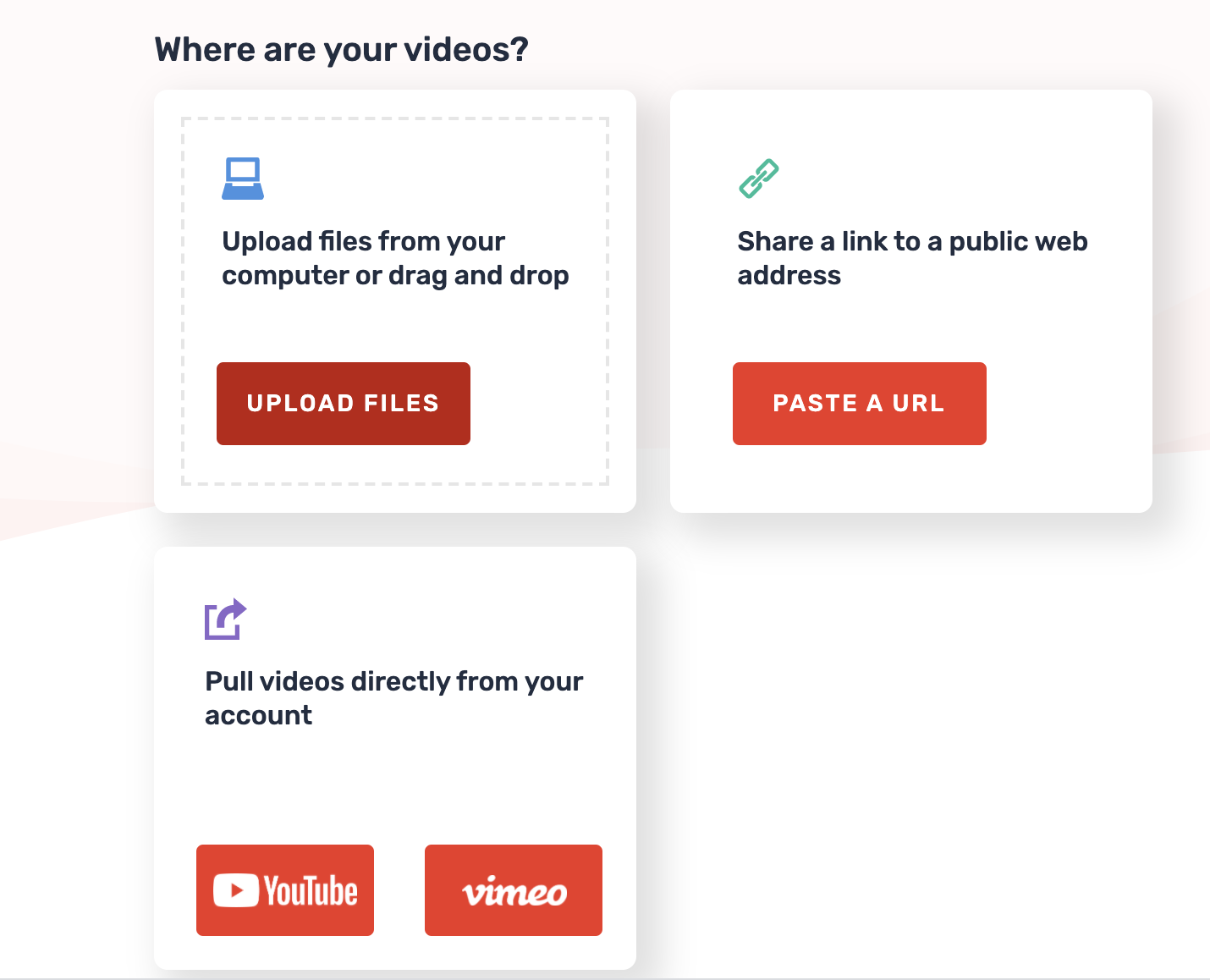 Once your video is uploaded you are ready to check out.  You can see that this one-minute video is costing $1.25 and it will say 'estimated delivery time 3 hours'.  I never bother paying to 'Rush My Order' because it will be ready within 10 minutes anyway.
2. Check/edit your caption file
Once your captions are ready, Rev.com will send you an email link to your order and you can use the interface to watch the video and check the captions.  The service is done by human beings rather than artificial intelligence and is appears to be highly accurate.  However, it's always worth proof reading the video a couple of times, especially to check spellings of company names etc.   You can easily edit your captions on the platform.
3. Download your caption file in the right format
 Once you've edited your captions, click 'Download' in the top right hand corner.  You will be given options for the type of caption file to download.  A SubRip (.srt) file will automatically be selected and in most cases that's the one to go for.  LinkedIn, Twitter and YouTube require an .srt file.  There are other options for different types of editing software. The only other one that you are likely to need is a Facebook ready SubRip (.srt) file.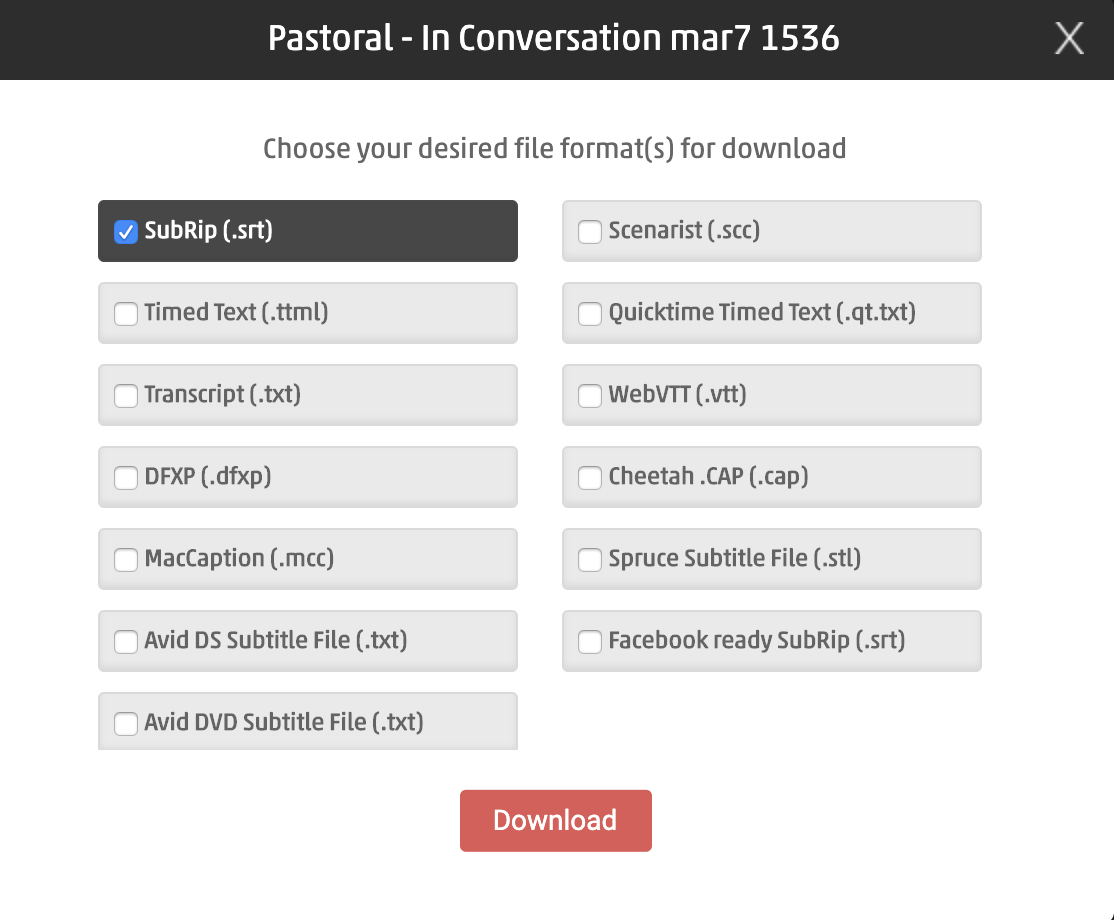 How to upload your caption file to social media
Once you have your caption file, you are ready to upload it with your video. I'm going to use LinkedIn as an example of how to do this.  Most social media platforms work in a similar way when it comes to uploading your caption file.  You can find step by step instructions for each platform here.
1. Click 'Start a post' on LinkedIn and click the video icon to upload you video.
2. Once the video preview appears, click 'Edit' in the top right-hand corner.
3. Scroll down and click 'Select Caption' to attach the SRT file and click 'Save'.
4. Add a title and any hashtags and click 'Post'.
Once you get a notification that the post is ready to view, the captions will be on the video!
I hope you found this post helpful.  For more video production tips, visit our blog.